Character Profiles
gives extra insight into some of the side characters in
League of Angels
. Today's profile: Thea!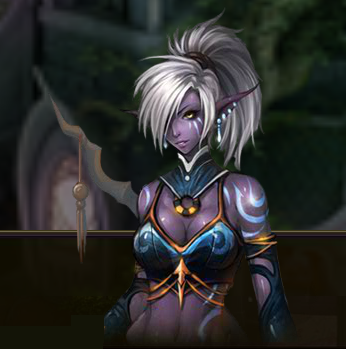 "The stars are always with me." - Thea
After releasing
Nocturna
from her curse, she joins you permanently.
Anne
then points you to the World Tree, where her "sister" Thea resides, who will help you further on your journey.
Although very impressed by your legendary deeds, Thea herself at first has other things on her mind – evil influences, inexplicably falling stars… And no clues as to the cause – yet. She instead refers you to Ivrund, instead. (He'll get his time in the spotlight soon, don't you worry!)
So what about Thea can we deduce? She is an elf in appearance, though her skin hints at dark elven origins. She is concerned about the stars, where others focus on more earthly woes. A budding astronomer, perhaps? After looking at Ivrund, we may be lucky enough to deduce more of her character and origins…
What do you think? Any insight to offer? Be share to share and discuss it on our
Forum
!