​
Craft MasterDuration:
Jan. 4th to Jan. 7th (Server Time)
Server:
S1 to S233
Description:
Players may choose from three locations to start an archaeological expedition: Grand Library, Dusk Prison and Cloud Palace. For each location, players will get different fixed and random outputs. The fixed outputs are Epic Origin Crystal (Grand Library), Legendary Origin Crystal (Dusk Prison), and Mythic Origin Crystal (Cloud Palace). The random output may includes the before mentioned origin crystals and Philosopher's Stones. Each exploration may require an attempt as well as a certain amount of Energy, different scenes require different amounts. Players can get certain attempts and Energy for free, extra attempts and Energy can be obtained using Vouchers or Diamonds.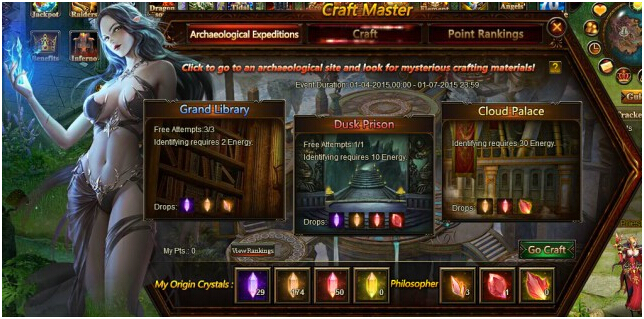 Click here for more details!