​
2014 is nearly over! In just under a year, we have accomplished quite a lot in League of Angels, wouldn't you say? To summarize your achievements, we are holding an exclusive Yearly Review event. With this event, you will be handsomely rewarded by reaching certain achievements. Read on for the details!
All the servers have been updated on Dec. 26th. This update may affect your connection in-game and we apologize for any inconvenience caused. Following the update, players should simply refresh the page to see new content and the changes once the update is complete.
New Event - Yearly ReviewDuration:
Coming Soon!
Description
:
You have stuck with League of Angels for nearly a year and we'd like to thank you. In this special event, reach certain achievements and you'll be handsomely rewarded! These achievement categories include: Angel, Mount, Heroes, Character and Challenge. Rewards include Cherubstone, Hero Mark, special Flair, Totem Badge, and many more awesome items. What's more, in this event, you can purchase some rare Angels, Mounts, Heroes, Gems, Fairies, and some rare items on a great discount.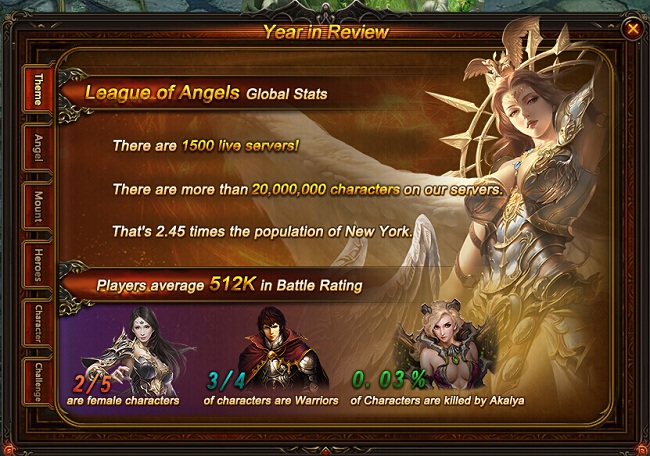 Click here to know more details!