​
Mount Stable
The stable is a brand new addition for Mounts. It enables players to make full use of all their awesome mounts and skills. By using the stable, players can now assign various deployed heroes with a suitable mount and skill combo set. Players who choose their mount and skill combinations wisely will now have the chance to beat players with higher battle ratings!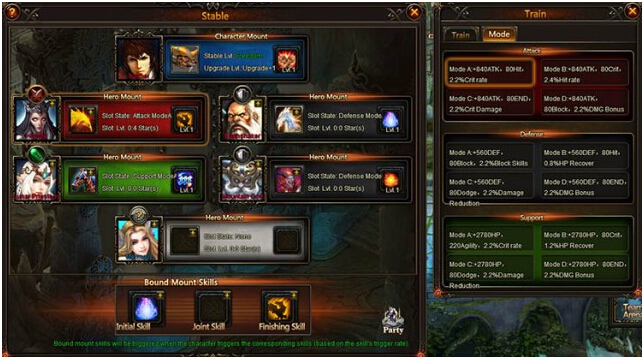 Basic Stable Info
The stable can be found within the mount panel above the 'Glamor' button when you reach Lvl. 65 or above..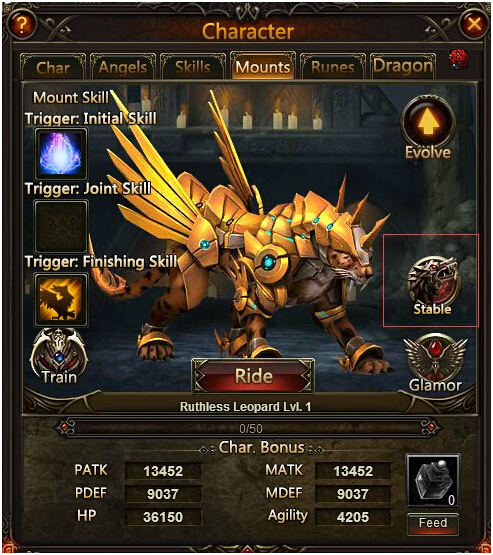 Click the 'Stable' button to enter the Stable interface.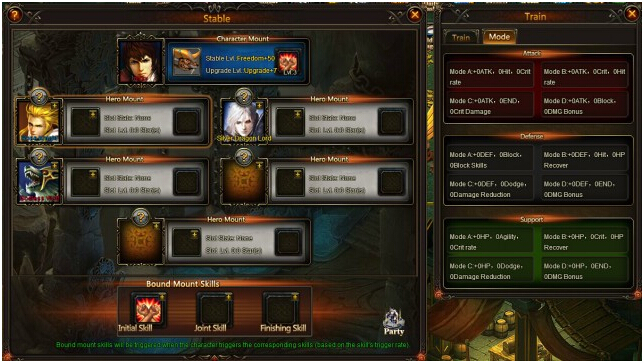 Stable mounts and skills follow a few simple rules:
1. Only deployed heroes can be selected.
2. One stat mode must be selected per skill slot.
3. Bonus stats and skill levels are based on the slot level.
4. Players can bind mount skills with character skills to use them in battles.
Training
There are three kinds of training modes: Attack, Defense and Support. Each mode has four sub-modes to choose from allowing players to have many different combo effects.
Bound Mount Skills
Players may bind skills here to use in battle. There are three different kinds of skills: Initial Skills, Joint Skills, Finishing Skills which will be triggered (depending on trigger rate) by the corresponding character skill in battle once bound.
For more detailed information check out the system in-game, and start discovering the most powerful skill and mount combination for your party!