​

Unlocking and Renewing VIP
Players will be able to purchase or renew VIP using Diamonds in-game. Please read on for more details.
Unlocking VIP for the First Time
Go to 1-time VIP interface and click the 'Unlock' button to spend 699 Diamonds to get 1 month of VIP. After using Diamonds to unlock VIP, players will get the following benefits:
- Instant access to VIP 4
- Daily collectable VIP Pack x1
- Gold x 500,000 (collectable within the Hot Events menu only in new servers that have been launched within a week.)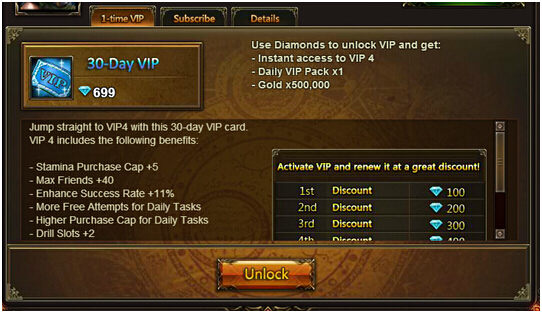 Renewing VIP
VIP stats purchased and activated run out in 30 days, so players must remember to renew within a timely manner if they wish to remain a VIP. Players simply have to click the 'Renew' button to add 30 days to their VIP subscription (this allows players to accumulate more days at any given time if they so wish). Players may see their remaining VIP days in the VIP status bar.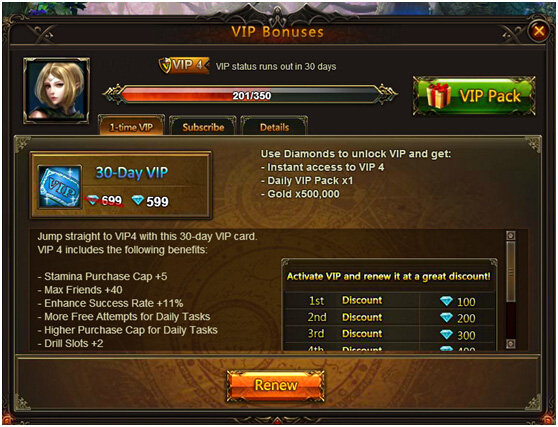 Each renew requires different amounts of Diamonds as listed below.
| | |
| --- | --- |
| Renewal Times | Discounted Cost |
| 1st | 599 Diamonds |
| 2nd | 499 Diamonds |
| 3rd | 399 Diamonds |
| 4th | 299 Diamonds |
| 5th | 199 Diamonds |
VIP players can gain Dev Points by logging in every day, or by spending Diamonds (spend 500 to gain 1 Dev Point). Each VIP renewal also gives 1 Dev Point. When the current VIP bar is full, you'll gain a VIP level boost.

VIP Bonuses Details
There are 10 kinds of VIP levels: VIP1 - VIP10. Higher level VIPs gain access to better VIP privileges. Check the in-game VIP Bonuses panel for details.